Containment Booths
We make containment, priority one
WORKSAFE™ containment solutions create safety optimised environments to meet Occupational Exposure Limits (OEL) between 100 μg/m³ and 10 ug/m³ (8 Hours TWA). A limit of 1 ug/m³ is achievable based on a specific review of process operations.
Our Downflow Booths upscale operator safety by taking a controlled unidirectional flow of air and directing it away from the breathing zone into low exhaust grilles and through the filtration system, ensuring a safer workspace.
Containment Booths
Containment by airflow is a well proven concept taken to new levels by Howorth's air engineers.
Our Downflow Booths are available in two different configurations depending upon the application:
Re-circulatory booths – typically used for powder operations
Single pass booths – recommended where solvent or fume vapours are present
These booths utilise a unidirectional airflow which is passed through ceiling mounted distribution screens or HEPA filters ensuring a controlled flow of air.
This airflow can be directed to carry contaminants away from the breathing zone of operators and into low level exhaust grilles and then through the booths filter system.
Howorth has a standard Downflow Booth range or it can work with clients to develop an airflow containment solution that meets their exacting requirements.
Our inherently flexible systems, together with our experience of equipment integration, will allow clients to meet their safety needs without having to compromise on process efficiency.
Howorth Downflow Benches utilise the recirculation principals of the Downflow Booth but with operation through an open sash.
The bench is ideal for small powder dispensing or sampling operations within labs or small facilities. They will provide containment of OEB 3 for compounds between 10 to 100 μg/m³ 8 Hours TWA.
Each bench will include a dedicated extraction system including Safe Change HEPA filtration and HMI/PLC controls.
We offer standard benches or we can work with you to develop a custom unit that meets your specific requirements.
Whether for use in research, as a pilot-plant or for full production, Kilo Labs are frequently utilised within pharmaceutical facilities.
Our Kilo Lab containment enclosures can provide a high level of operator protection from dust, vapour and liquids, whilst allowing ease of access for maintenance.
Capable of providing OELs below 10 ug/m3 8 Hours TWA, our GMP compliant enclosures provide an excellent safeguard against hazardous materials.
Horizontal, sliding sash glass panels combined with full-length double opening doors ensure maximum operator visibility and accessibility.
Howorth has considerable experience in supplying containment booths for a range of processes, including Pack-off systems.
The Pack-off system is designed to offer a primary level of containment when off-loading and packing off powdered products. The booth is providing an extra layer of protection to the operator (secondary containment) during the offloading/filling of drums, IBC, FIBC, and other containers.
Our extensive knowledge and expertise in the design of these systems ensures that we provide our clients with systems to suit even the most demanding specifications.
High Containment Screens are a simple yet effective way of boosting the containment capabilities of any Downflow Booth.
With our latest range of screens, we are able to offer previously unattainable levels of operator protection. The 5D Screen has been designed to enhance the comfort of operators while the range of movement helps to prevent bad practices during operations.
Independent testing has confirmed that OEL's as low as 1 ug/m3 8 Hours TWA can be achieved. This means that for operations where an air suit or isolator were previously the only option, a Downflow Booth combined with a High Containment Screen is now a viable solution.
In addition, our latest range of screens have been developed specifically to allow them to be fitted within existing booth facilities.
Drum and Solvent Handling Booths are designed to control vapours and aerosols that are created during the transfer of solvents and liquids and other handling processes i.e. drum to drum transfer or drum to process reaction vessel.
Protecting surrounding environments against hazardous vapours and aerosols, Drum and Solvent Handling Booths safeguard both the operator and the room environment during all reactions, distillations, and general wet chemistry experimental work.
These booths are typically employed in kilo, pilot and developmental wet chemistry labs.
Our equipment can also be designed to satisfy the requirements of REACH.
Download our Pharmaceutical brochure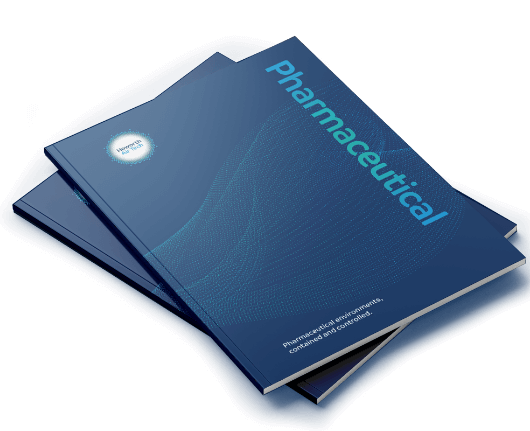 If you want to find out more, download our brochure or get in touch.
With advanced air technology, comes a more advanced understanding of your needs.
If you need further help or would like to request a quote for any of our products and services, please contact us using the link below.
What our clients have to say
I wanted to let you know that Sam did a great job. We were really pleased with his professionalism and hard work. He didn't stop and was really knowledgeable when he went through the work sheets at the end of the job. We'd be really pleased to see him attend site again in the future
Thank you both for acting on our behalf with Mettler Toledo, you provided us with an efficient and effective service as always
Our interactions with Howorth have been excellent. The relationship has allowed us to establish our microbiological containment immunological analysis suite. The people I have worked with have been nothing but hepful, professional and capable. Design has been a partnership and the build quality has turned heads with some of my colleagues. In short, thank you Howorth.
Latest from Pharmaceutical